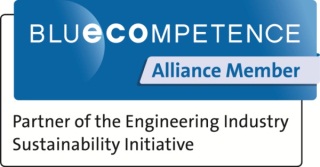 We regard the saving of energy and the protection of the environment as our obligation.
With our market leading machines and technologies, we already successfully offer today environment-friendly and energy and resource-efficient solutions which consume less energy and permit an even more responsible use of chemicals and other finishing agents.
In line with this policy, we are engaged worldwide in the bluECOmpetence initiative of the VDMA. In this sustainability initiative, member companies of the VDMA have committed themselves to developing new and more environmentally friendly processes through intelligent technical innovations Excellent technical competence from which Monforts customers can profit now and in the future.