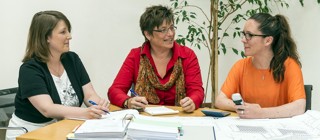 Only original Monforts spare parts guarantee a constant high performance and availability of your Monforts ranges in the long term. With our "direct ship" parts programme, more than 80% of the orders received by 2:00 p.m. local time are shipped on the same day. Parts depots in all the world's textile centres enable quick delivery of spare and wear parts without any major import or customs formalities.

Service and spare parts packages can be tailored to the configuration of the machine in question or to the method of operation, so permitting a minimum stock of spare parts and a corresponding minimisation of the capital ties up.

Clearing structured operating and service manuals on CD-ROM allow quick identification of all spare parts. On machines equipped with the Qualitex control system, these manuals can be called up directly on the monitor for visualisation.
M.O.R.E Spare parts finder
In the event of a machine standstill, minutes can count in order to avoid slipping "into the red" with production and operating costs. So it's comforting to know that at Monforts, all the major spare and wear parts can be ordered conveniently and easily at any time of day or night via the Internet.



You can also get in touch with us by e-mail (parts@monforts.de).